Over the holiday season, just about everyone is traveling in some form or another. It is the busiest time of the year for shopping centers, grocery stores, roadways, airports, train stations and so on. All the chaos can create added unnecessary stress to a season that is meant to be filled with joy, peace, relaxation and love. Most of us environmentally conscious folks can see visiting home for the holidays on both sides. The one side being the irresistible allure of spending quality time with friends and family, and the other side being the fact that the travel alone just adds to the already over indulgent tendencies of the season, which isn't always easy to stomach. But it is possible to get that quality time and maintain your peace of mind. Taking a few little extra steps and precautions during your holiday travel can be monumental towards a safer, happier, healthier and more environmentally friendly holiday.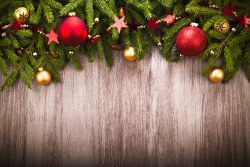 On the Road
Travel by car is one of the least environmentally conscious options for getting around, but there are a few simple ways to cut down your carbon footprint. The best place to start is changing the way you drive. Take a deep breath and shift yourself into the mindset of a defensive driver. Aggressive driving can greatly lower your miles per gallon (sometimes over 30%) not to mention put you at higher risk for an accident. Your vehicles efficiency can also be improved by simply keeping up with maintenance; adequate air and tire alignment and regular oil changes are quick and easy to keep up with and worth the extra effort. Also, in the spirit of the season, carpooling is always a great option that can not only save the environment, but offer even more quality time with your loved ones.
On the Railway
By choosing to take the train, you are already making a conscious decision to protect the environment. Travel by train is one of the greenest modes of transportation. But if you're still looking to go that extra mile you can start with packing lighter to decrease the load, and when buying your ticket consider passing on the sleeper car option as they use up far more energy per passenger.
In the Sky
When it comes to traveling by plane there is a little less you can do, but that doesn't mean there isn't room for effort to be made. Choosing direct flights as often as possible means less impact from your trip for the environment. Just as with any form of travel, being conscious of what you pack can help to decrease the load, hence cutting down on fuel usage. Airlines are also slowly making the transition from jet fuels to bio fuels and although it is not a readily available option around the world it is still worth looking into when booking your holiday travel.
There are many ways to make the holidays more environmentally-friendly. We here at Chicago Gateway Green wishes everyone a happy holiday season!!