Candace Jordan has taken the media world by storm, and we have a feeling she's far from done yet. She's a notable columnist for The Chicago Tribune with her blogs, Candid Candace and Chicago Now, as well as the founder and award-winning host of Candid Candace TV. She's graced the covers of 20 magazine covers nationally, including 8 for Playboy (2 U.S., 6 international), had a billboard in Times Square, was a Playboy Centerfold and appeared in Risky Business with Tom Cruise. Her impressive history of supporting non-profits within Chicago's charity scene shows her immense passion for giving back. All things considered, we're extremely honored to have her as one of our co-chairs! Tune in next week to learn about Candace's co-chair – Nina Mariano.
1. How'd you start your involvement in Chicago Gateway Green?  My involvement began years ago when I first started covering this big event for my blog, internet show and Tribune column. First of all, CGG has always thrown THE best parties, but after attending a few and realizing its mission, it became even more important to me because of the way it supports and beautifies our communities.
2. Out of all the charities in Chicago, what attracted you most about being involved with CGG?  Firstly, I love the mission, secondly, I adore Grant DePorter and all he does for the city. I also love the diverse crowd this yearly happening attracts. It's clearly one of the city's favorite charities. Everyone has such a great time and is so supportive in promoting it. I also happen to love and admire my co-chair, Nina Mariano, so it's all good.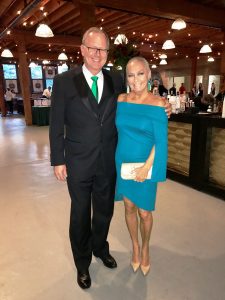 Chair,  Grant DePorter with Candace at Green Tie Ball 2017, Devil in the White City.
3. Without giving too much away, how do you plan to push the limits of this year's Green Tie Ball?  I hope we can bring even more people and fun to the party! I think the Food Dude, David Lissner, has the restaurant scene thoroughly in hand for the event but I would like to see cool theme-related decor in an exciting new venue, more photo opps for social media sharing, more celebs (although it would be hard to beat having Taylor Kinney there) and, of course, more funding for CGG.  I would also like to have a ginormous social media presence in advance of the event. We have yet to begin working on it in earnest but these are my initial thoughts.  
4. What's the most fulfilling part about becoming a Green Tie Ball Co-chair?  Being able to shine a light on all the good this charity does for Chicago. Who knows what we would look like without all the clean-up, beautification and planting CGG has done— 4000 trees and 80,000 shrubs planted with 1.35 million pounds of litter removed! Chicago would be a barren, ugly wasteland without CGG! So yeah, I'm definitely thrilled to be able to support this in the role as co-chair.