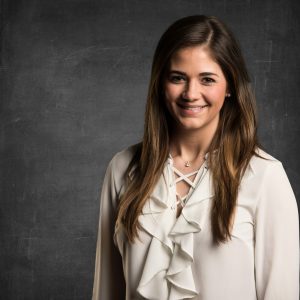 Danielle Lamorgese  
Secretary at Chicago Gateway Green 
Operations Coordinator for a package design and branding agency.
CGG: How did you get started with Chicago Gateway Green? 
DL: A Carthage Grad was on the board at the time and sent an email to the business majors at my college about an internship opportunity. I went through a few rounds of interviews and interned with CGG the summer going into my Senior year. The opportunity was amazing and the cause and mission is what kept me around. Once I graduated and got settled in the city I knew I wanted to give back to the organization which is why I have been serving on the board for 3 years!
CGG: What's your favorite part about Chicago?
DL: Everything… is that an appropriate answer? I love the people, the amazing restaurants, the shopping, the business of it at all times of day. I'd say the only thing I dislike are the winds that come off the lake in the winter and trying to park places!
CGG: If you could have 1 superpower, what would it be and why?
DL: This is a tough one! I would have to say healing. To be able to take the pain away from people suffering would pretty awesome! 
CGG: What's your favorite thing to cook? Don't cook? What's your favorite thing to eat?
DL: I enjoy cooking! I'm not sure I have a favorite "go-to" meal, but the cold weather has me craving soup at all times! I have a delicious tomato basil soup recipe that I love making  accompanied with a grilled cheese, sometimes I'll add bacon or prosciutto to my grilled cheese.. hits the spot!
CGG: If your life had a theme song what would it be?
DL: I cheated on this one, sorry! Too many good ones to pick from, so I took a quiz that Buzzfeed had 🙂 "Don't Stop Believin'" by Journey is my theme song!
CGG: Where do you see yourself in 10 years?
DL: 10 years seems like forever, but I imagine I will be married with kids. Working and still volunteering somewhere with a great mission!