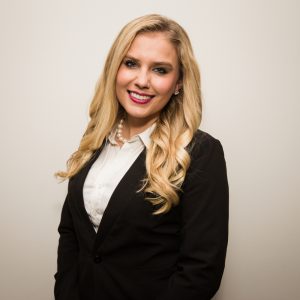 Alexandra Perraud  
Job Title/ Industry?
Associate Attorney at a family law firm.
How did you get started with Chicago Gateway Green? 
My best friend (also a longtime CGG Associate Board member) encouraged me to volunteer for Green Tie Ball in 2013.  I joined the Board right after and have been involved since!
What's your favorite part about Chicago? 
I absolutely love the Gold Coast, where I live.  I think it has the best restaurants and is the best place to walk around, look at beautiful architecture and shop.
If you could have 1 superpower, what would it be and why? 
To not have to sleep at all! There is always too much I want to do and too little time.
What's your favorite thing to cook? Don't cook? What's your favorite thing to eat? 
I don't cook often, but my favorite is probably bolognese.  My favorite food to eat is Mediterranean.
If your life had a theme song what would it be? 
"I Hope You Dance" by Lee Ann Womack.  Sappy, but the best lyrics
Where do you see yourself in 10 years? 
Hopefully owning my own family law practice!